IT translations
Even after the boom of the year 2000, ICT technologies have maintained a very prominent position in the IT translation market. Our agency founded on the need to meet the demands of this specific sector and for years the localization of IT products and services has been at the heart of our technical knowledge.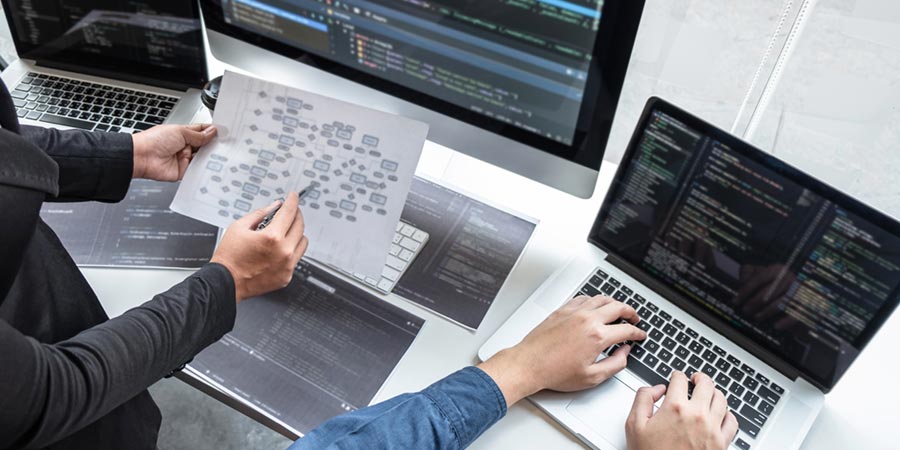 We provide IT translation services in the following areas and types of documentation:
ERP Solutions
We carry out translations for the entirety of requests from software houses (screenshots, online guides, error messages, user manuals, manuals for staff training, functional changes, procedural guides, product data sheets, marketing brochures and more).
Cybersecurity
Product data sheets, brochures, safety policies, web content, user manuals, etc.
GIS - CAD geographical applications
Design software, case studies, web content, manuals, etc.
Lead Generation
Increase customer loyalty and increase sales volumes for the development of effective customer interaction.
Digital Communication
Design and launch of Mail Marketing Campaigns and creation of Digital Flyers.
Specific applications
Software with different applications in the insurance, banking and real estate sectors for the management of leads, IT assets, databases, etc.
Networks and operating systems
Numerous documents concerning the management of networks and operating systems.
Hardware
We have carried out numerous translations for different kinds of hardware (blade servers, memory cards, etc.).
Web marketing
Coordinated image including Sites, Social and Online Use Tools. In addition, we translate meta-tags and meta descriptions of websites, verifying the recurrence rates of translated terms and expressions, etc.
B2B Platforms
Design and implementation of desktop, web and verticalized apps.
Software and Custom Apps
Design and implementation of desktop, web and verticalized apps.